Our commitments:
We invest systematically in technology that preserves nutritional value & maintains the product's natural state to guarantee that we offer the finest products to our customers and consumers.
We control the quality at all stages of production with certified safety and quality systems that monitor the product, the process, and the ingredients.
We routinely apply organoleptic, chemical, physical, and microbiological testing and monitoring.
All our products have the required certifications: harvest location, date of harvest, batch and lot from farm to shelf. With an advanced system of traceability, we are able to ensure quality, consistency, food safety, and accountability.
For us, social responsibility means to offer natural products that have undergone the minimum processing and promote a healthy way of life. It also means to invest in our facilities while using sustainable practices for the whole production process. This philosophy leads us to constantly certified practices and products.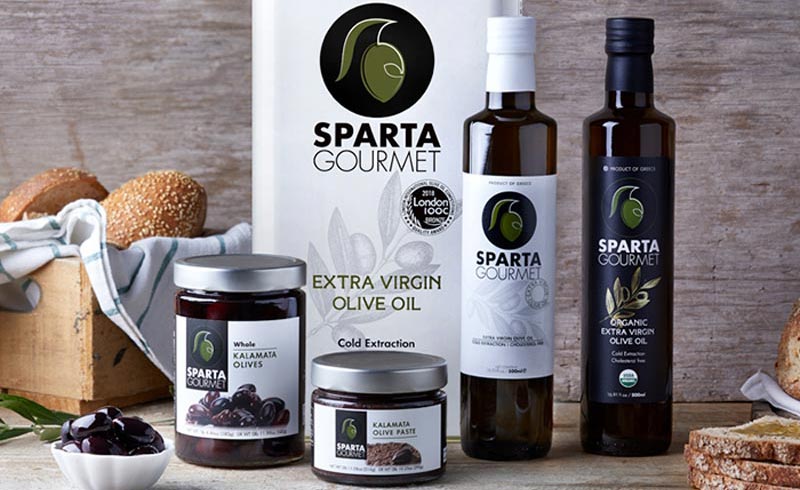 Everything starts with our products
At Sparta Gourmet, we prioritize product quality, nutritional value, and minimal environmental impact. Our standards ensure that the necessary preventative controls are in place to drive product safety, to deliver high quality products to our customers with respect to the land that they grow on and the community that produces them.
Our Facilities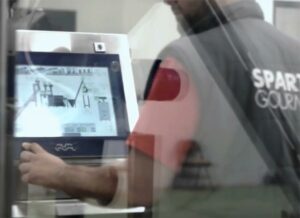 Our 10,000 square meters facilities, which were built in 2017, have been a significant investment with state-of-the-art equipment. In our model olive oil production facility, we have installed the most innovative method of olive oil extraction using the Alfa Laval Contherm technology, which employs centrifugal low temperature processing to ensure the nutritious polyphenols and organoleptic features are preserved.
It is essentially a physical treatment of the olives either by heating or cooling resulting in reduced kneading time to ensure optimal flavor, aroma, stability, appearance as well as nutritional value of extra virgin olive oil, while maximizing product quality and safety. Moreover, official analysis indicates almost double concentration of polyphenols, thanks to the Alfa Laval Contherm tachometer systems used.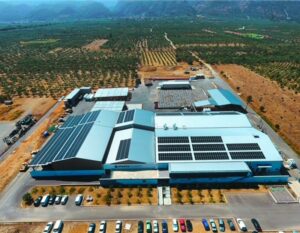 Our modern facilities include a covered area of ​​7,700 sq.m., and a controlled storage space of 2,300 sq.m. Our vertically integrated production unit is distinguished for the various storage capabilities and conditions offered for olive oil and olives. Specifically, we are equipped with indoor stainless-steel tanks with a capacity of 4,000 tons of olive oil in a specially designed closed and monitored system. These tanks employee nitrogen flushed sealing to prevent the olive oil from harmful oxidation due to exposure to oxygen. The olive oil storage tanks are also temperate monitored, preventing high heat conditions which deteriorate quality.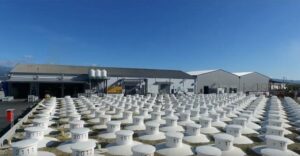 Our table olive storage of 4,000 tons uses a traditional and sustainable method of temperature control, with the use of geothermal temperature stabilization by having the 300 storage vessels below ground. This method maintains a steady temperature environment for the proper curing of the olives without the wasteful need for energy consumption.
Our two-phase olive oil extraction facility is a reference point for the best practices in management of olive oil processing. In addition to its large capacity, with two processing lines of 6 tons of olives per hour, it is distinguished for the two defoliation lines, open air and sheltered storage of the olives preventing overheating that causes fruit degradation prior to extraction. Extraction then occurs within 12 hours of intake with immediate chemical analysis testing and classification for proper storage.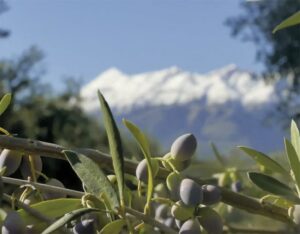 The unique soil conditions of our region and the microclimates established by the hilly terrain and Taygetus mountain cover in combination with our constant commitment to optimal production with environmentally friendly methods, guarantees the formation of a sustainable cultivation of products with high nutritional value.
We continue to produce and export high quality agricultural products from the fertile soils of Lakonia to consumers around the world, while cultivating a sustainable production and harvest cycle to ensure future viability for the community and the land.

Our certifications
At Sparta Gourmet we apply quality control system HACCP in accordance to standard ISO 22000: 2005. We are approved by the Greek Ministry of Agricultural Development and Food under code: EL 40 150. Our company is a registered facility with the U.S. Food and Drug Administration (FDA). Additionally, certified with IFS, BRC, FSMA, our facility, processes and procedures are designed and focused with product quality and food safety as our top priority.
We have now completed Non-GMO Project verification for a selection of our retail products, further confirming our commitment to natural food products with no genetic modifications.